Sure. The Ground is about style and culture. About communities and content creators. About fun and entertainment. About having a good time. But it is even more important for us to stand for something. To carry our values ​​out into the world. To tackle things, to change them and to make them better. We believe in togetherness.


This summer we want, we need, we must set a huge sign for peace!
THE MUST HAVE PEACE CHARITY COLLECTION
That's why we created the must-have PEACE merch collection. Our partners from Closed, Lala Berlin, Eastpak, Drykorn, Lee, Wrangler, MCM, Merz b. Schwanen and Le Specs will each design a merch piece and sell it exclusively at The Ground. The limited garments and accessories will cost between 25 and 200 Euros and 100 % of the proceeds go to the Be an Angel* foundation.
Visitors and brands are also welcome to donate – Hugo Boss has already given the first larger amount, which we are more than thankful about.
THE #FASHIONUNITES OPENING PARADE
In collaboration with the inclusive, diverse and sustainable platform PLATTE.Berlin and their amazing community, we are organising a big, colourful, loud The Ground opening parade through Berlin on 7 July. Under the motto #FashionUnites, accompanied by the sound of Berlin DJs, we'll be moving from 12 p.m. from the Victory Column through the west to the festival location on the Berlin exhibition grounds. Everyone is invited to take part in the parade and then gets free entry to The Ground on the first day of the festival. (registration here)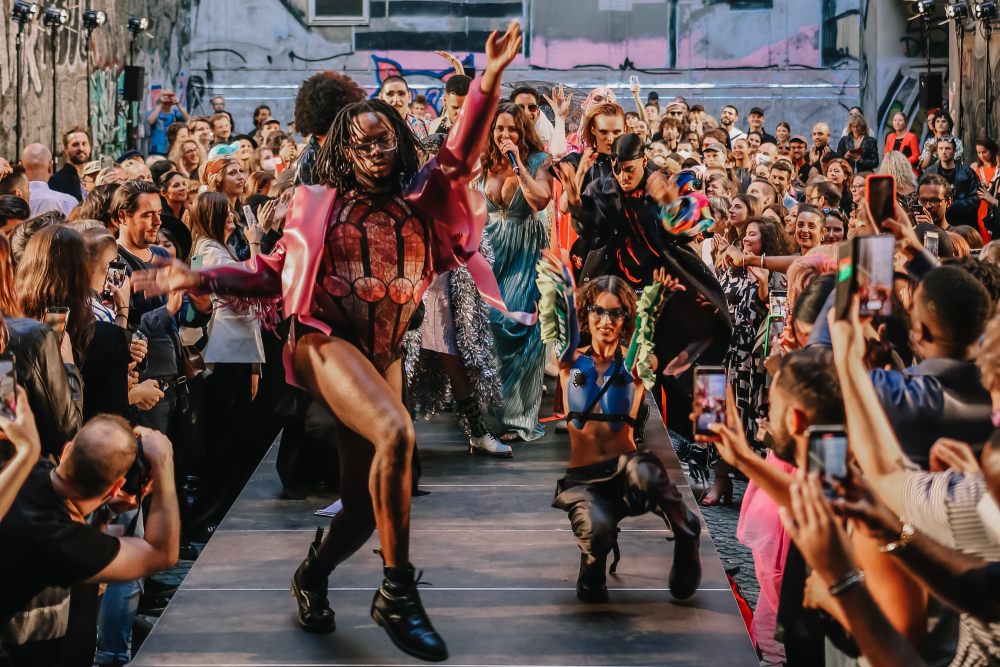 WE MUST HAVE PEACE. FOR EVERYONE. EVERYWHERE. NOW.
*Be an Angel e.V. is an initiative of people from media, culture and marketing who are committed to the sustainable integration of people with a refugee background. Under the direction of Chairman Andreas Tölke, the team has been working intensively for the people from Ukraine for weeks, organizing trips to Germany for refugees from Moldova, activating a nationwide network for accommodation and supplying hospitals in Odessa, Kyiv and Lemberg with medicines. The Premium Group has been supporting Andreas Tölke for a long time and is happy to be able to contribute even more with the Must-Have PEACE campaign.