#SHOESOMELOVE 2020: time for the next round of the sneaker donation campaign from SEEK and One Warm Winter
For the fourth time, SEEK, the most progressive trade show for Contemporary Fashion, is teaming up with the One Warm Winter initiative for the homeless. Together they are starting a Germany-wide donation campaign (GIVE BAG) for those most affected by the pandemic: destitute and homeless people. From 29 June 2020, sneakers will be collected in Berlin, Hamburg, Cologne and Frankfurt am Main and then donated to local homelessness organisations.

Stores including 43einhalb (Frankfurt am Main), Acribik (Cologne), Allike (Hamburg) and Overkill (Berlin) will have sneaker collection boxes available up until 26 July 2020 for people to place their footwear donations in.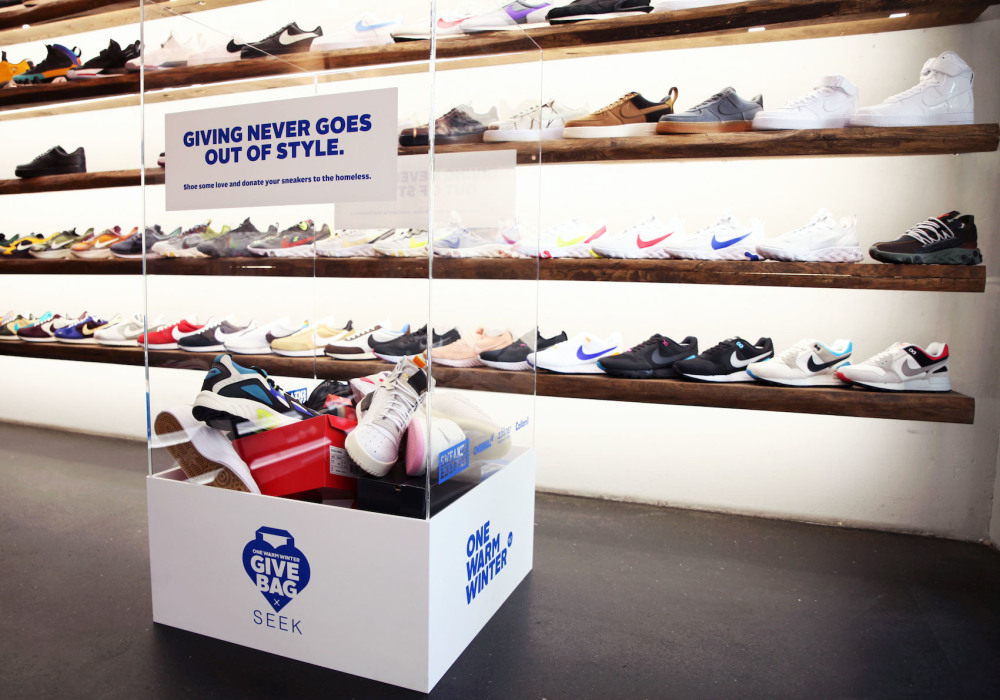 "Shoe Some Love was a massive success last year. We're impressed that, despite the challenging situation for retailers right now, stores are back at the start line supporting those who have to hustle even more," says Dominic Czaja, CEO at DOJO advertising agency and initiator of One Warm Winter. "Homeless people usually make their living by selling street magazines or being given money by passers-by. The situation is becoming increasingly difficult, however. Many welfare institutions continue to remain closed. Medical care is partly restricted. Homeless people don't know where to turn and many are very scared, because they're in an at-risk group. We therefore want to build on our #shoesomelove campaign from last year and customise it to suit the current situation."

"'Now in particular" rather than "despite everything"! SEEK cannot take place physically this summer. The hard life on the streets does though – 365 days a year. We mustn't forget this while working from home, even though we're not seeing it daily. This makes the GIVE BAG slogan more important than ever: Giving never goes out of style," says Marie-Luise Patzelt from SEEK. "We, the SEEKers, are super proud and thankful to be able to work together with our friends at One Warm Winter for the fourth time. Whatever fashion's trends and seasonal looks, for GIVE BAG especially it's a case of 'more is more' this season – more partners, more donations, more help. Thanks to all supporters of the campaign for joining in again this summer, thank you for your renewed commitment! Thanks to One Warm Winter for your fantastic work!"

This year it's about more than just the collection campaign: sneaker luminary Hikmet Sugoer, all participating stores, as well as the sneaker experts and influencers Willy Iffland and Amadeus "Ama" Thüner from the podcast Oh, Schuhen!, are supplying favourites from their own collections to be auctioned off. The proceeds will go towards the Caritas Berlin Arztmobil [the charity's medical care van], which offers a mobile outpatient service.

The GIVE BAG is also supported by DHL, the international magazine Sneaker Freaker and by Zöllner Kunststoff-Produkte.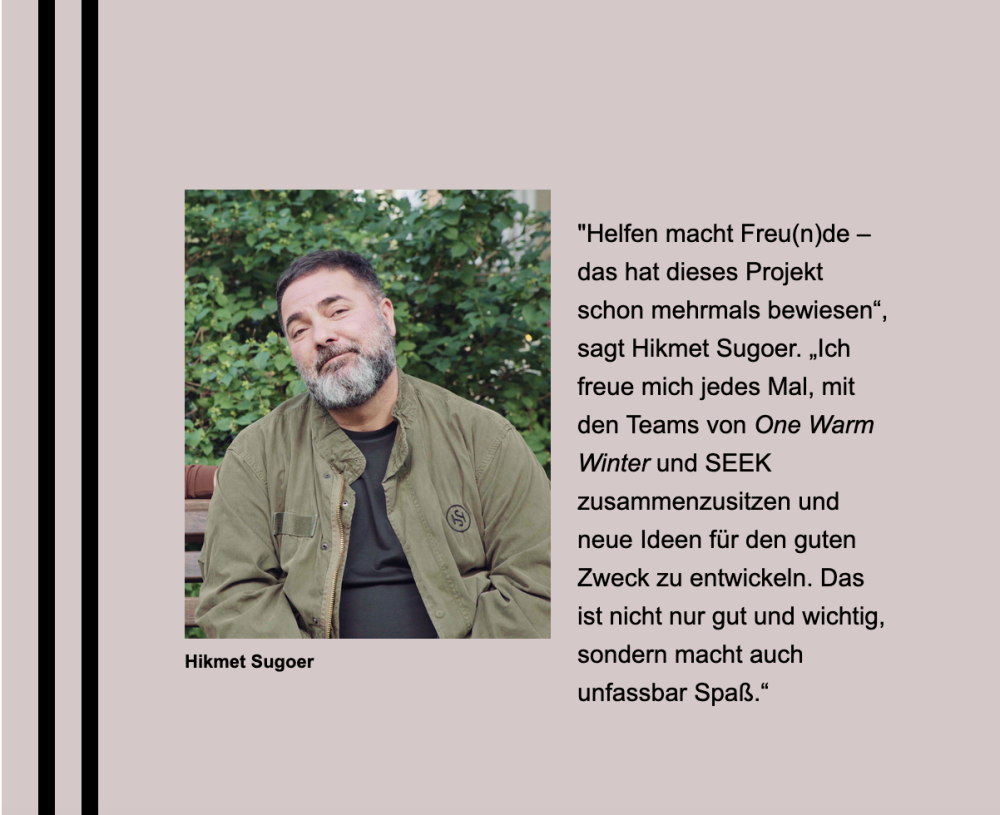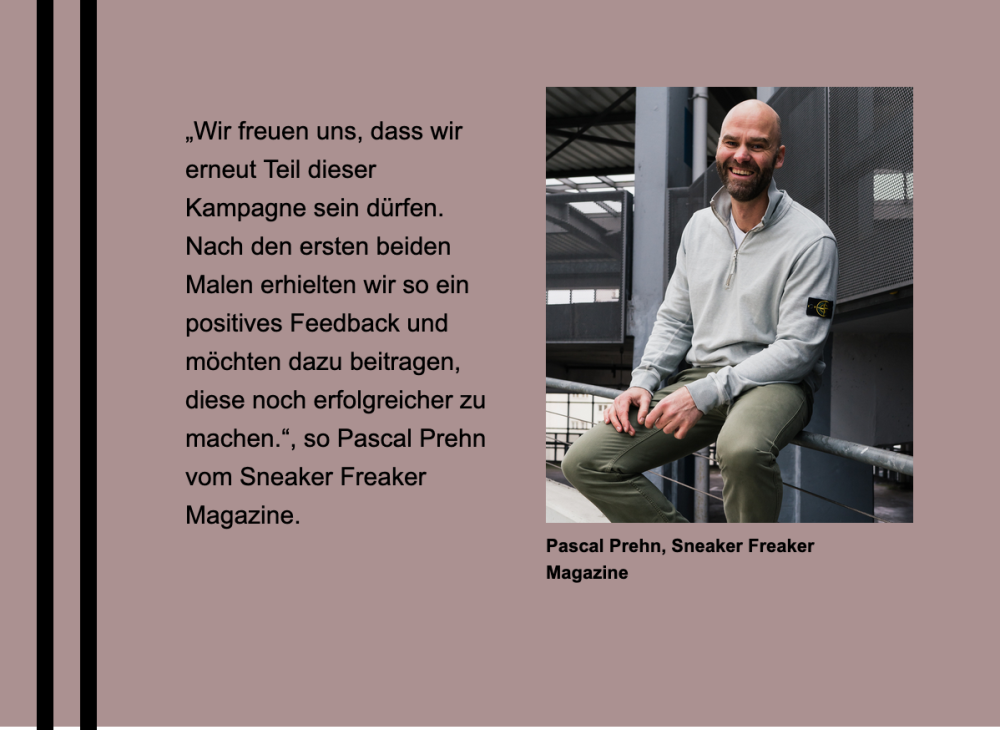 Participating sneaker shops:
43einhalb, Stiftstraße 36, 60313 Frankfurt am Main
Acribik, Händelstraße 41, 50674 Köln
Allike, Virchowstr. 2, 22767 Hamburg
Overkill, Köpenicker Straße 195 a, 10997 Berlin

Participating organisations:
Caritasverband Frankfurt e.V., Alte Mainzer Gasse 10, 60311 Frankfurt am Main
Diakonie Köln, Kartäusergasse 9-11 50678 Köln
Hanseatic Help e.V., Große Elbstraße 264, 22767 Hamburg
Caritasverband für das Erzbistum Berlin e.V., Residenzstraße 90, 13409 Berlin


ABOUT ONE WARM WINTER:
One Warm Winter, the homeless initiative from creative agency DOJO, acts as the interface for coordinating activities and bringing partners onboard. It has been campaigning on homelessness for over nine years now, with the aim of sensitising young people in particular to the problems on the streets. Thanks to its attention-grabbing campaigns and the support of many big names, One Warm Winter demonstrates simple approaches that can be taken, thereby creating more acceptance of the homeless people within our society.

onewarmwinter.org
www.facebook.com/onewarmwinter

ABOUT SEEK:
Since 2009, SEEK has evolved from a niche trade show to become Europe's most relevant fashion and business platform for streetwear, sneakers and pop culture.
SEEK is edgy, clean-cut and unpolished. We are all about statement design, new classics, denim and sportswear. SEEK is the trade event for the fashion community, who know where it's at and can stimulate sales. This is where the new generation of decision-makers meets.
SEEK is one of the PREMIUM GROUP's trade shows and sits alongside PREMIUM and FASHIONTECH.